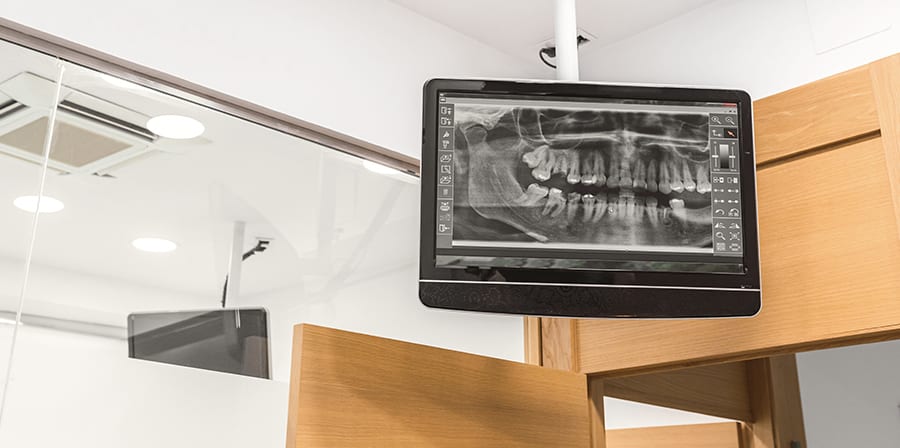 At Centre dentaire et d'implantologie Natalie Socqué the technology we use allows us to make better diagnoses and perform treatments that are more precise and more comfortable for the patient.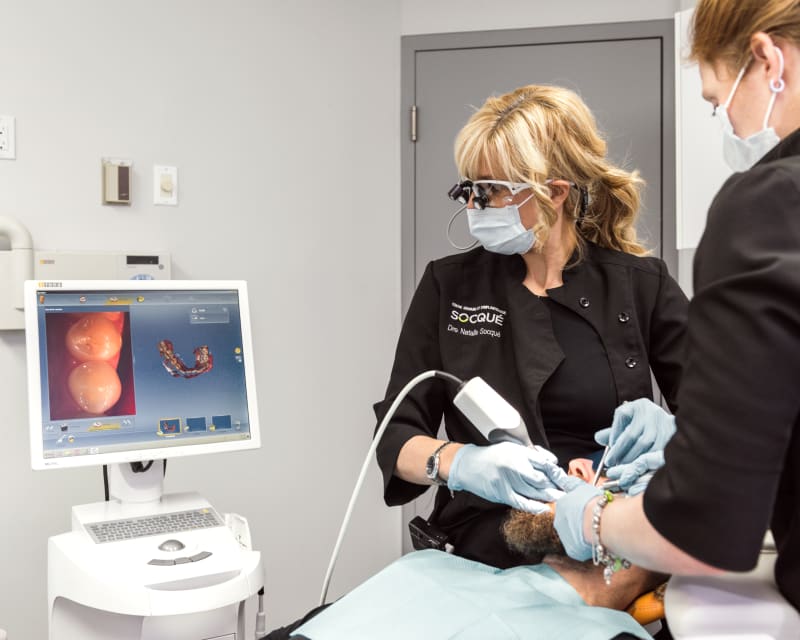 Technologies at Our Dental Clinic
Since the dental centre opened, Dr. Socqué has always wanted to be at the cutting edge of technology. In addition to allowing better diagnostics, these technologies allow more precise and comfortable treatments for the patient.
In addition, the digital radiographs and scans displayed on the monitors in our treatment rooms allow you to show you any problem related to your oral health and guide you in your treatment plan.
Our goal is to provide you with care that meets your expectations and to ensure that you are fully informed about your oral health.
Digital X-Rays
Our digital radiography device exposes patients to much less radiation than former equipment. In addition, the software improves the quality of images and diagnoses.
Not only is it faster than conventional radiography where films have to be developed, digital radiography is environmentally-friendly. 
Cone Beam Cat Scan
Jaw three-dimensional radiography involves the cone beam computed tomography (CBCT) technology.
It serves to establish quality diagnoses and plan precision treatments. It is particularly useful to safely pinpoint the location of implants.
Digital Impressions
Instead of using impression paste, which is somewhat uncomfortable in the mouth, we use a digital scanner. Fast and comfortable, this tool displays your teeth onscreen and software can then process the image to design a restoration procedure or plan a treatment. 
On-site CEREC Fabrication
CEREC® technology allows us to manufacture your crowns, inlays and ceramic veneers on site, in a single appointment. Temporary restoration and a second visit after the final restoration is received from the laboratory are no longer necessary.
Oral Cancer Screening Device
During dental exams, we take two or three minutes to use VELscope, a device that visualizes precancerous cells in the mouth. If cancer is caught early, it is much easier to treat and your chances of survival are greatly increased. 
Healing with FRP
The use of Platelets Rich in Fibrin (PRF) can accelerate healing following bone grafts, gum grafts, extractions or implantation. It is a natural, biocompatible healing method that helps you heal faster.. 
New Patients Always Welcome
Are you searching for a dentist in Châteauguay, Mercier, Kahnawake or the surrounding area? We are happy to accept new patients at our clinic. Contact us to book your first appointment today.
Request Appointment
Hours
Monday:

08:30 am - 04:30 pm

Tuesday:

08:30 am - 04:30 pm

Wednesday:

08:30 am - 05:00 pm

Thursday:

08:30 am - 06:00 pm

Friday:

08:30 am - 04:30 pm

Saturday:

Closed

Sunday:

Closed
Quick Links